Interface is a component of User Experience, but there's much more to the picture.
User Experience is often misunderstood. It isn't about cosmetics, design, information or interface. While all those components are crucial, they are only aspects. In short, user experience is the way that your business interacts with your customers via interactive media. Computers, tablets and phones all will result in different experiences for your user, and proper UX design will ensure that these interactions will have the best possible result.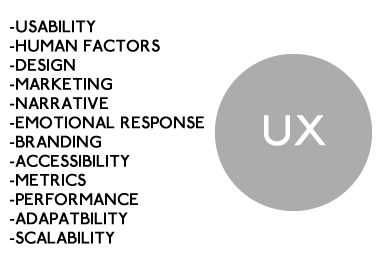 User Experience Design is the study and evaluation of how users feel about a system. It takes into consideration such things as usability, perception of the value of the system, utility, efficiency and overall emotional impressions of the system. A great example of the triumph of UX design is the Apple touch interface that first debuted on the Ipod. This revolutionary design looked at how users interacted with devices and offered new ways of using an interface that had never been considered. the resulting success of the UX design changed the way interfaces were created on almost every front, not just with music players.

What Situations Would Benefit From UX Design?
UX design won't work the same way in every situation for every user because, as human beings, we are all different. Our approach is to design for specific experiences and promote certain behaviors. Almost every website could benefit from UX design since everyone wants their customers to have a pleasant experience. But because resources can be tight, it is beneficial to prioritize which areas would benefit most from UX design. The Grapnel UX suite consists of:

Evaluation of current system including user surveys
User profiles and persona
User Flow document
Optional information architecture and content inventory
Wireframe prototype
A/B testing survey & optional feedback software
Optional analtytics software and setup

User Experience is vital.

Websites and Web applications have become progressively more complex as our industry's technologies and methodologies advance. What used to be a one-way static medium has evolved into a very rich and interactive experience.
UX is your site's personality.

UX design takes a broad approach to the enhancement of products, combining elements from various fields to create an optimal and well-rounded experience. This methodology is adept at helping to reach a set of goals that encompass passive and active user interactions–goals determined both by users and the business or organization.