A comprehensive plan that's more than just web analytics.
Web analytics measure site visits and page load time. Marketing analytics measure business performance. Metrics like traffic, leads, and sales... plus what happens to turn leads into customers, clicks into dollars. Grapnel marketing analytics include data not only from your website, but also from other sources like email, social media, print campaigns and mailings. Grapnel's approach is people-centric, so the user is the main focus. We can help you reach your customers and serve them more effectively.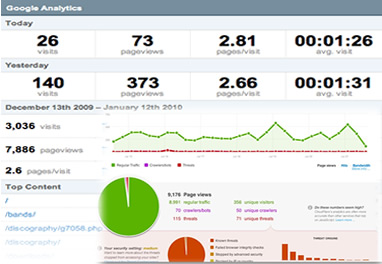 The true value of analytics goes beyond justifying the marketing budget; it can significantly improve your ability to fine-tune campaigns, follow-up on leads, maintain existing customer relationships and generate new ones.
If your business is cutstomer-focused, your analytics campaign should be as well. Numbers aren't enough... you need to know what they mean. Ease-of-use is another key factor because complex tools are worthless if you can't figure out how they work.


An End-to-End Marketing and Analytics Solution
With marketing analytics, you have a good, solid look into the direct relationships between your marketing channels. It's great to be able to see how each of your individual channels (e.g. social media, blogging, email marketing, SEO, etc.) are performing, but the true power of analytics comes into play when you can easily tie the effect of multiple channels' performances together.

Your Website & Landing Pages
Search Engine Optimization
Paid Search (PPC)
Business Blogging
Social Media
Email Marketing
Lead Nurturing & Marketing Automation

S
Information at Your Fingertips

Grapnel will generate a marketing brief based on the questionnaire and empirical search results. The brief will summarize your current situation and outline a plan with recommendations for marketing campaigns based on hard numbers.
Metrics, Metrics, Metrics

Grapnel will design a specific set of analytics tools to gather and track the information about your marketing efforts most pertinent to your business and make recommendations for adjustments to increase the success of your campaigns.